Children who struggle to read and write need motivation and inspiration.And they need it all the time.  In the classroom, out of the classroom.  Before, during, and especially after school.
Charles Haley walked the path many of our youth walk today.  This five-time world champion in football went to school because he had to, not because he wanted to.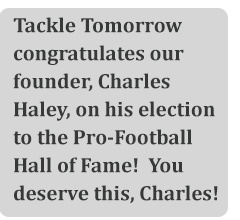 But Charles now realizes the potential to love learning exists inside each child.  And he thinks technology is the way to find it.
Charles created the Tackle Tomorrow fund to place these things in after school programs:
computers/tablets
trained instructors
Istation – an animated learning curriculum

Albertsons, Pat & Emmit Smith Charities, Roger Staubach, Larry Glasscock, Jr., Garry Weber, Bryan Roberts, The Feldman Family, Care Forward, Inc.,
NFL Alumni Northern CA Chapter, Lizzy Bruce, JTK, Inc., DeBartolo Family, Acme Brick, Fischer Co., Istation, Colt Ventures, Mary Silverman, Gary Griffith, Troy Aikman, Dr. Lee Fitzgerald, Richard Collins, Sharon Tipping, Michael Finley, Henry Wendorf, Builders Surplus of Garland/Mike Devereaux